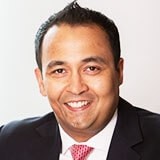 Vinay Mendonca
Managing Director and Global Head of Product & Propositions, Trade and Receivables Finance
HSBC
Vinay is the Global Head of Product and Proposition for HSBC's Trade and Receivables Finance business. He is responsible for setting the strategic direction for the Group's Trade and Receivable Finance products, working with industry forums and consortiums on global growth programmes, strategic partnerships, and adoption of new digital technologies for Trade.
Vinay Mendonca has 18 years of experience in wholesale and transaction banking covering product and business management, sales and relationship management.
Prior to this, he was the Global Head of Business Management, including leading the digital and technology transformation for GTRF. He moved to London from Hong Kong in 2015, where he was the Global Head of Traditional Trade.
Before moving to Hong Kong, Vinay headed Product Management for HSBC's Trade franchise in India. In his earlier roles within HSBC India, he managed the payables product suite.
Prior to joining HSBC in April 2006, Vinay was a Senior Consultant with Infosys Technologies, based in Amsterdam. He previously worked with BNP Paribas and Reliance Industries Limited in India.
Vinay holds a Bachelor's degree in Electronics Engineering and a Master's degree in Management Studies in Finance from the University of Mumbai.