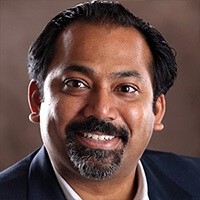 Vijay Vaitheeswaran
US business editor
The Economist
Vijay Vaitheeswaran is the United States business editor of The Economist. He joined the editorial staff in 1992 as the newspaper's London-based Latin America writer, and opened its first regional bureau in Mexico City.
As an award-winning senior correspondent, he opened the magazine's Shanghai bureau in 2012, and was the China business editor and bureau chief until mid-2017. He also serves as chairman of The Economist Innovation Summit, a provocative series of global conferences on innovation held annually in Chicago, Berlin and Hong Kong.
His latest book (published by HarperCollins) is "Need, Speed and Greed: How the New Rules of Innovation Can Transform Businesses, Propel Nations to Greatness, and Tame the World's Most Wicked Problems." He previously co-wrote "ZOOM", with Iain Carson, and "Power to the People", two award-winning books about the future of cars and energy.
Vijay is a life member of the Council on Foreign Relations and an advisor on sustainability and innovation to the World Economic Forum. His commentary has appeared in the Wall Street Journal, Financial Times and New York Times. He is a graduate of the Massachusetts Institute of Technology.