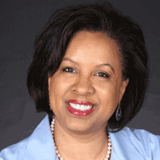 Toni Townes-Whitley
President, US Regulated Industries
Microsoft
As president of US Regulated Industries at Microsoft, Toni Townes-Whitley leads the US sales strategy for driving digital transformation across customers and partners within the public sector and regulated industries. With responsibility for the 2000+ sales organization and ~$11B P&L, she is one of the leading women at Microsoft, and in the technology industry, with a strong track record for accelerating profitable business performance and building high-performance teams.
Her organization is responsible for executing on Microsoft's industry strategy and go-to-market for both public sector and regulated industries in the United States, including Education, Financial Services, Government, and Health. In addition to leading this team, Townes-Whitley drives the formulation of Microsoft's AI National Plans around the world and represents the global salesforce on Microsoft's Aether Committee (AI and Ethics in Engineering and Research) - a Board created to recommend policies and procedures that address the implications and opportunities of AI on society.
Passionate about leveraging technology to create positive societal and global impact, Townes-Whitley represents Microsoft at the World Business Council for Sustainable Development (WBCSD). In this capacity, she works with CEOs from each industry to address global issues around urbanization, climate change, and workforce readiness. Toni's external efforts align to her innovation within Microsoft, specifically in the creation of a Digital Leadership vision and narrative that extends the company's focus beyond customer transformation to responsible and principled implementation of technology and inclusive transformation for every person and organization on the planet.
Prior to joining Microsoft, Townes-Whitley was president of CGI Federal, where she was responsible for a portfolio of more than $1 billion, leading 6,600 employees in more than 70 countries to deliver greater value to US Government civilian, defense, and intelligence sectors. Prior to her role at CGI, Townes-Whitley held several management roles at Unisys Corporation leading global, public sector systems integration and the Federal Civilian group, where she achieved 500 percent revenue growth and doubled profitability.
Townes-Whitley is a graduate of Princeton University's Woodrow Wilson School and has received certifications from Wharton Executive Education, New York University (NYU), and the Performance Management Institute. A writer and presenter on topics of IT innovation in society, she has delivered presentations most recently with Gender Fair (TED Talk), Stanford University, INSEAD, United Nations Council on Women, World Economic Forum, White House Refugee "Call to Action", GlobeSec, and numerous other industry client and partner organizations. She is the recipient of the 2018 FedScoop 50 Industry Leadership award, the 2018 NVTC Tech 100 Executive award, and the Black Enterprise's 2018 Top Tech Influencers award.
Townes-Whitley is co-executive sponsor for the Blacks and Africans Employee Resource Group at Microsoft. She is an advisor to the Women's Center of Northern Virginia, and a past president of Women in Technology. She has helped to launch new initiatives for Microsoft with the Athena Alliance—an organization that prepares women for corporate board roles; and Gender Fair, a new movement to logo companies with equitable pay and progressive programs for women. Townes-Whitley continues to support the US Peace Corps for which she volunteered for three years as a village teacher in Gabon (Central Africa).