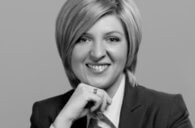 Tanya Kuznetsova
Assistant Treasurer
X5 Retail Group
Tanya Kuznetsova is a corporate treasury practitioner with 13+ years of experience in USD 10 bln turnover companies, she is an expert in banking products in retail, supply chain finance and a sustainable trade and financial inclusion enthusiast. Tanya has an extensive experience with innovations in working capital and liquidity management. She holds the professional designation of Certified Treasury Professional (CTP). She is a member of the Association for Financial Professionals (AFP), member of the Executive institute, honorary member of Russian partnership for Financial Professionals.
Tanya Kuznetsova holds a position of Head of banking products, Assistant treasurer level for X5 Retail Group, a leading Russian food retailer operating over 9000 stores, 2016 revenues over USD 16 billion. Tanya started working in X5 when the company operated 600 stores. She manages cash collection and liquidity, working capital optimization, automation and increase in scalability of treasury function, supply chain finance program and banking relationships.
Tanya is a winner of a prestigious National Award Reputation-2016, established by a committee chaired by Minister of finance of Russia, for personal contribution to the Russian financial market, achievements in development of electronic factoring operations and increasing efficiency of companies which use factoring. Tanya's work was named highly commended in retail by the Supply Chain Finance Community Awards in December 2016, Amsterdam, Netherlands. She has publications in various professional journals in Russia, in the USA and in the UK and published a business book on professional development in finance.