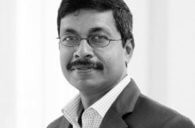 Sukand Ramachandran
Partner & Managing Director – London
Boston Consulting Group (BCG)
Sukand Ramachandran is a core member of the Financial Institutions, the Technology Advantage, and the Operations practices at The Boston Consulting Group. He leads the firm's corporate banking segment and BCG's global work in technology and operations in capital markets.
Since joining BCG in 2006, Sukand has focussed his client work on the financial services, technology, and media sectors. He has acquired deep experience in retail and corporate banking, capital markets, and insurance.
Sukand is a consultant with deep expertise in customer services, organisation, transformational change, as well as technology-enabled change.
Prior to joining BCG, Sukand worked as director of strategy and innovation with Siemens Business Services, and he started his career with Citibank.