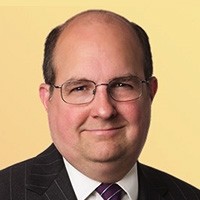 Stephen Vaughn
Partner in the International Trade Team
King & Spalding
Stephen P. Vaughn is a Partner in the International Trade Team of King & Spalding who works primarily on international trade litigation and policy matters. In April 2019, Stephen completed more than two years of service as the General Counsel for the Office of the United States Trade Representative (USTR). In that position, he managed a team of government attorneys representing U.S. interests in both trade negotiations and trade litigation. During two months in early 2017, Stephen also served as the acting U.S. Trade Representative. He is widely regarded as one of the world's foremost authorities on current U.S. trade policy, as well as one of the most talented U.S. trade remedy litigators.
Stephen draws on his experience in both government and the private sector to help clients navigate challenging U.S. trade policy issues. While at USTR, Stephen was directly involved in numerous significant issues, including the new U.S.-Canada-Mexico Agreement (USMCA), actions undertaken by the United States against China pursuant to Section 301 of the Trade Act of 1974, and efforts to revise the Korea-U.S. Free Trade Agreement. He also supervised U.S. litigation efforts before the World Trade Organization (WTO), as well as litigation undertaken pursuant to other U.S. free trade agreements. Stephen represented the Administration in numerous meetings regarding U.S. trade policy with Congressional officials and officials from other countries.
Before working at USTR, Stephen spent almost two decades in private practice representing clients in high-profile trade matters. Much of his practice focused on injury issues in the context of antidumping and countervailing duty (AC/CVD) litigation. He has lengthy experience in complex trade litigation before the U.S. International Trade Commission, the U.S. Court of International Trade, the U.S. Court of Appeals for the Federal Circuit, and North American Free Trade Agreement binational panels.
During his time in private practice, Stephen represented clients in a number of trade policy matters, from enforcement of unfair trade laws to the role of trade issues in the context of climate change.
Stephen has also served as an adjunct professor at Georgetown University Law Center, where he co-taught a seminar on U.S. trade policy and the WTO.