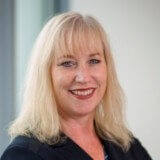 Shona Tatchell
Chief Executive Officer and Founder
Halotrade
Shona Tatchell is the CEO and Founder of Halotrade, a blockchain enabled fintech start up focussed on the delivery of sustainable supply chain financing.
Formerly Head of Innovation for Trade & Working Capital in Barclays working in partnership with fintech companies which will shape the future of the global trade business. She was a Director with Barclays for six years, and was previously Global Head of FIG Trade, delivering trade finance, trade services and risk mitigation solutions to bank and non-bank clients globally. She joined from HSBC where she was a senior manager in the European Structured Trade and Advisory team within Global Trade and Supply Chain.
She began her career with The Chase Manhattan Bank graduating from the European Credit Training Programme and joined Chase's Trade Finance team where she spent 13 years working in London, the Middle East and Singapore where she headed Chase's Trade Finance business. Ms Tatchell owned her own successful hotel business in Scotland for several years after leaving Asia, before returning to banking in 2008. She holds a Bachelor of Arts and Master of Arts in Modern Languages (French and German) from Oxford University.