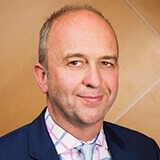 Sean Edwards
Head of Legal, Sumitomo Mitsui Banking Corporation Europe Limited and Chairman, International Trade & Forfaiting Association (ITFA)
Sean Edwards is an English lawyer, formerly with Clifford Chance, and is now Head of Legal at Sumitomo Mitsui Banking Corporation Europe Limited. He is Chairman of the International Trade & Forfaiting Association (ITFA).
He is one of the principal draftsmen of the Uniform Rules for Forfaiting (URF) (ICC Publication no. 800), a joint initiative of the ITFA and ICC and published by the ICC. He was also a member of the drafting group for the Standard Definitions for Techniques of Supply Chain Finance published by ICC, ITFA and a number of other international trade finance organisations.
He sits on the Executive Committee of the ICC Banking Commission and leads a work-stream on the ICC Working Group on Digitalisation in Trade Finance. Mr Edwards has written articles on trade finance, particularly on forfaiting and other forms of receivables finance, for all the major trade finance magazines and is on the editorial board of Global Trade Review (GTR). He is a frequent presenter at trade finance conferences dealing with a range of subjects.