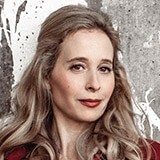 Professor Noreena Hertz
Economist, strategist and best selling author
Professor Noreena Hertz is an economist, strategist and best selling author. She graduated from university when she was 19 years old. Within four years she was advising the Russian government on its economic reforms and investors on M&A transactions as the Russian economy opened up to capitalism. At the age of 29, she was working with the governments of Israel, Egypt, Palestine and Jordan on the role economics could play in the Middle East peace process.
A regular commentator in print globally, her opinion pieces have appeared in publications including The New York Times, The Washington Post, The Financial Times, Die Zeit, El Pais, The South China Morning Post and The Wall Street Journal. She makes frequent television appearances around the world, has hosted her own show on Sirius XM (the United States' biggest radio network) and served as ITV News Economics Editor. She has given keynotes at TED, The World Economic Forum and Google Zeitgeist, as well as for leading global corporations.
Professor Hertz has a PhD from Cambridge University and an MBA from the Wharton School of the University of Pennsylvania. She is an Honorary Professor at University College London.