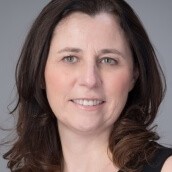 Nathalie Louat
Director of trade and supply-chain finance, financial institutions group
IFC
Nathalie Louat is the director of trade and supply-chain finance in the financial institutions group at the International Finance Corporation (IFC), and is based in Washington. She was previously the senior manager in charge globally of insurance, innovation, capital markets and the Distressed Asset Recovery Program, and before that a senior manager for portfolio operations in East Asia and the Pacific.
From 2010 to 2014, Ms Louat supported the IFC's financial-sector clients in East Asia and the Pacific, managing a $3 billion portfolio with exposure to 90 clients and 150 projects from Mongolia to the Pacific Islands. From 1999 to 2010, she worked in the structured finance department within the IFC's treasury vice-presidency, and she has served on the IFC's diversity and inclusion steering committee. She was selected as a member of the World Bank Group's sounding board for the change-management process, and received its diversity and inclusion leadership award in 2012.
Before joining the IFC, Ms Louat pursued a career in the securitisation group at Credit Lyonnais. She holds a degree from the French School of Statistics and Economics and graduated as an actuary from the French Institute of Actuarial Studies.