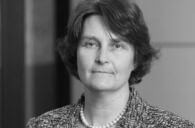 Natalie Blyth
Global Head of Trade and Receivables Finance
HSBC
Natalie Blyth is the Global Head of Trade and Receivables Finance which provides financing and risk mitigation solutions to meet clients' international and domestic trade requirements.
Natalie has over 20 years investment banking experience. She joined the Global Commercial Banking business last year as the Global Head of Large Corporates then Global Head of Client Coverage. Before moving to the Commercial Banking business in 2015, Natalie spent eight years with Global Banking and Markets business as Global Head of the Consumer Group and as Co-Head of UK Banking.
Natalie joined HSBC in 2007 from Deutsche Bank, where she spent three years as Head of Consumer. Prior to this, she spent 11 years at Dresdner Kleinwort Wasserstein.
Before her move into banking, Natalie worked as a solicitor at Stephenson Harwood, focussed on corporate law. Natalie has a BSc in Biochemistry from St Andrew's University.