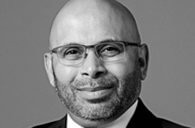 Nadeem Syed
Chief Executive Officer
Misys
As Chief Executive Officer, Nadeem has overall responsibility for the company including its strategic direction, growth and financial results.
Nadeem joined Misys in June 2012 as President and Chief Operating Officer (COO). He came to Misys from SumTotal, where he most recently served as COO. Nadeem led the company's strategic initiatives overseeing services, support, hosting, product management and engineering since early 2010. Before this, he spent over 19 years in numerous positions at Oracle.
Nadeem's most recent position at Oracle was Group Vice President of Products with responsibility for leading a large, multicultural, globally distributed team. In this role, Nadeem significantly evolved the supply chain management suite to a position where Oracle became the second largest supply chain solutions provider. In addition, Nadeem also held pivotal positions on the acquisition and integration executive teams for several key Oracle acquisitions.