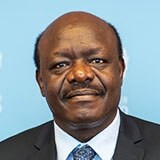 Mukhisa Kituyi
Secretary-General
UNCTAD
Mukhisa Kituyi, of Kenya, became UNCTAD's seventh Secretary-General on 1 September 2013. After serving an initial four-year term, he was reappointed by the General Assembly in July 2017 for an additional term that began on 1 September that year.
Dr. Kituyi has an extensive background as an elected official, an academic, and a holder of high government office. He also has wide-ranging experience in trade negotiations, and in African and broader international economics and diplomacy.
He was born in Bungoma District, western Kenya, in 1956. He studied political science and international relations at the University of Nairobi and at Makerere University in Kampala, Uganda, receiving a BA in 1982. He went on to earn an MPhil in 1986 and a doctorate in 1989 from the University of Bergen, Norway.
Dr. Kituyi served as a researcher at Norway's Christian Michelsen Institute from 1989 to 1991, and as Programme Director of the African Centre for Technology Studies in Nairobi from 1991 to 1992.