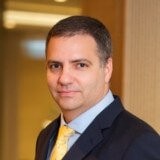 Michael Vrontamitis
Head of Trade, Europe & Americas
Standard Chartered Bank
Michael Vrontamitis is responsible for Standard Chartered's trade finance business with European and American headquartered companies as well as the business across sales, product, service and implementation in Europe and the Americas.
​Mr Vrontamitis is a member of the BAFT Global Trade Industry Council, a member the ICC Banking Commission Advisory Board and World Trade Board. He co-chairs the ICC working group on the digitisation of trade finance. He previously chaired the SWIFT Offshore CNY Best Practice Working Group – Cash and​ Trade Group and in 2014 was recognised by The Asset as The Renminbi Banker of the Year in the Industry Achievement Awards of the Triple A Treasury, Trade and Risk Management Awards.
​​
He joined Standard Chartered Bank in 1995 and has worked in Hong Kong, London and Singapore.His experience spans both wholesale and retail clients as well as Investor Relations. H​is​ wholesale experience has included corporate relationship management in both global and commercial banking segments, cash management and trade finance sales as well as heading Product Management for Asia for Transaction Banking across cash management, trade finance, securities services and clearing. His retail experience covers business planning and strategy for the CEO of the Consumer Bank, customer segmentation and branding, and customer experience management.
​Most recently Mr ​Vrontamitis was the Head of Trade, Product Management, Transaction Banking​ and was responsible for the P&L and delivery of the Bank's Trade Finance capabilities globally in documentary trade, receivables finance, supply chain finance, and distribution to all of the ​b​ank's clients across Corporate ​and​ Institutional, Commercial and Business clients.
He is on the board of KELY support group, a Hong Kong based Charity focussed​ on providing education and intervention for youth targeting drugs, alcohol and self esteem issues through peer support.