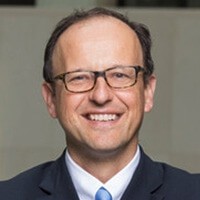 Martin Muhleisen
Director of the Strategy, Policy & Review Dept. (SPR)
IMF
Martin Mühleisen is Director of the Strategy, Policy, and Review Department (SPR) of the IMF. In this capacity, he leads the work on the IMF's strategic direction and the design, implementation, and evaluation of Fund policies. He also oversees the IMF's interactions with international bodies, such as the G20 and United Nations.
Prior to his current position, Mr. Mühleisen was Chief of Staff to Christine Lagarde, the IMF's Managing Director. His tenure coincided with the completion of the 14th Quota Review, the negotiation of new IMF programs with Ukraine and Greece, as well as the IMF's rapid response to the African Ebola crisis.
Mr. Mühleisen worked on a wide range of other policy and country issues during his IMF career. As Deputy Director and, before that, Head of the Advanced Economy Division in SPR, he was closely involved in the Fund's response to the financial crisis, reviewing its policy advice to 65 advanced economies, including the euro area programs. He helped develop the Fund's Early-Warning Exercise, contributed to innovative spillover and cross-country reports, and shape key contributions to the G20 process.
Mr. Mühleisen previously worked in the Western Hemisphere Department on the United States and Canada, and on Chile as Chief of the Pacific Division. He was a desk economist for Japan and India and spent several years in the IMF's African, Asian, and Capital Markets Departments.
A German national and Konrad Adenauer scholar, Mr. Mühleisen joined the IMF in 1993. He holds a Master's Degree in Economics from Cambridge University and a Ph.D. summa cum laude in Economics from the University of Munich. He has published extensively on macro-financial analysis, economic linkages, fiscal policy, aging, and saving.