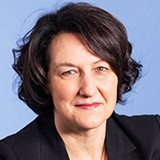 Marion Jansen
Director of the Trade and Agriculture Directorate (TAD)
OECD
Marion Jansen is the Director of the Trade and Agriculture Directorate at the OECD. She previously held senior positions in the World Trade Organization, the International Labour Office and the International Trade Centre. In these roles, she has provided support to trade negotiations and to WTO dispute settlement. She has represented different organizations at the G7 and G20 level, led critical interagency collaborations and major interdisciplinary research networks.
Marion Jansen holds a PhD in economics from the Universitat Pompeu Fabra (Barcelona) and undergraduate degrees from the University of Konstanz, Toulouse and Passau. She has published widely on international trade and global economic governance and notably co-edited the volumes "Women Shaping Global Economic Governance" and "Making Globalization Socially Sustainable".
A German national, Marion Jansen grew up in the Netherlands. Next to German and Dutch, she speaks English, French, Italian and Spanish.