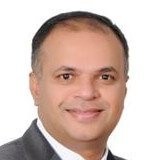 Manoj Menon
Head of Transaction Banking
First Abu Dhabi Bank
Manoj Menon joined FGB during 2014 to build and manage Global Transaction Banking and Financial Institution Coverage team. Currently he is the Global Head of Transaction Banking and part of Wholesale and International Banking management team.
In the last 26 years Manoj has held international roles in India, France and the United Kingdom covering various roles in Sales/ Relationship Management, Trade Finance, Financial Institutional Banking and Corporate Banking. Prior to joining FGB, Manoj served as Global Head of Trade Service, Innovation and Customer Proposition at The Royal Bank of Scotland (RBS).
Manoj maintains active involvement in several industry bodies and is a member of BAFT, Global Trade Industry Council (GTIC); WTO Trade Expert Panel Group; part of the ICC Banking Working group that established the Trade Finance default register; worked with BERR (Business Enterprise & Regulatory Reform, UK) and ECGD in the establishment of a new UK Risk Insurance program available to Banks to support UK Exports and was a member of the URBPO drafting committee defining the rules governing Bank Payment Obligations (BPO).