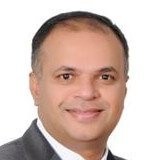 Manoj Menon
Founder and CEO of CUSP Green Solutions
Manoj Menon is the Founder and CEO of CUSP Green Solutions Ltd.
With over 30 years of experience in international banking, Manoj has held senior leadership roles at premier banking institutions such as American Express Bank, The Royal Bank of Scotland and First Abu Dhabi Bank across Europe, the Middle East and the Indian subcontinent. Manoj's last assignment was at First Abu Dhabi Bank, as Global Head of Transaction Banking. He has a proven track record for establishing new businesses, building a franchise, creating product portfolios, building and leading high-performing teams and establishing trusted client partnerships.
A subject matter expert in Payments, Cash Management and Trade, he is a major advocate of utilising new technologies to develop and roll out innovative products and solutions. Manoj has been instrumental in conceiving and leading the delivery of the UAE Trade Connect (UTC), a blockchain-led platform that digitises trade.
Manoj maintains active involvement in several industry bodies and has served on the World Trade Organization's Trade Expert Panel Group (since 2007), the World Trade Board, and was part of the working group for the UAE Central Bank's Aber project (KSA /UAE Digital Currency) and most recently CBDC Project (Digital Currency).
His mission with CUSP is to create a digital-first, global marketplace that helps accelerate the transition from fossil-fuel-based to clean energy in support of the net-zero initiative. The vision is to build an ecosystem where all participants and stakeholders come together voluntarily for this transition and create a sustainable and greener planet for future generations.