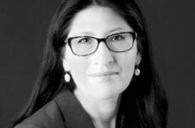 Magaly Charlier
Director of Global Product Compliance
Taulia Inc.
Magaly has nearly 20 years experience in corporate payments and e-commerce, having worked in cash management, transactional banking, trade finance, e-invoicing and working capital management.
She joined Taulia in 2015 as Director of Global Product Compliance, to ensure that the design of Taulia's pioneering products meet in-country regulations and applicable law. She also provides advisory support to corporate clients. Prior to this, Magaly worked for 14 years in senior product management roles at JPMorgan London (including Order-to-Pay Xign). In addition to that, she worked as a consultant in payments and e-commerce at UK Payments (formerly APACS), contributing to innovativebanking industry led solutions.
She has a broad depth of expertise in the trends and developments in international payments and financial supply chain automation across global markets. Magaly represents Taulia at the European E-Invoicing Service Providers Association (EESPA) and other industry forums. She holds two MAs in Sociology and Economics from the University of Louvain (Belgium).