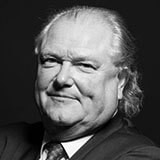 Lord Digby Jones
Cross-bench peer, author, House of Lords
Lord Digby Jones is a cross-bench peer in the UK House of Lords, international businessman, author, speaker and media commentator.
A lawyer by profession, he was Director-General to the Confederation of British Industry (2000-06) and Minister of State for UK Trade & Investment (2007-08).
He has published two books, Fixing Britain – the business of re-shaping our nation (2011) and Fixing Business – making profitable business work for the good of all (2017).
Lord Jones, a renowned business advocate, speaks around the world on all aspects of global trade including the wider political and societal scene. He presented the BBC2 TV Series The New Business Troubleshooter and is a regular contributor across the international media, appearing on TV and radio and in newspapers where his views and opinions find a regular audience.
He is involved in several charities including Cancer Research UK, The Royal Navy and Royal Marines Charity and Ovarian Cancer Action.