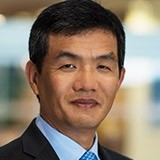 Liren Chen
Chief IP Officer, SVP, Engineering & Legal Counsel
Qualcomm
Liren Chen is a Chief IP Officer and Senior Vice President of Engineering, Legal Counsel of Qualcomm Technology Licensing (QTL), a division of Qualcomm Incorporated. In this role, Chen leads a team of engineers, product managers and business strategists, to define and manage QTL's product strategy and technology roadmap, strengthen its core licensing programs, and expand into new technology and business areas.
Chen has served multiple engineering, R&D and legal leadership roles at Qualcomm since joining the company in 1996. Before joining QTL, Chen led a team of cross-functional technical and legal experts to create and execute Qualcomm's technology-driven IP strategy for licensing, IP M&A and patent litigation analysis. He conducted research and development of advanced wireless communication systems. Chen has been an active inventor with over 120 granted and pending patent applications worldwide. Prior to joining Qualcomm, Chen worked as a software engineer at Suntendy Software Inc. Beijing.
Chen received a bachelor's degree in Automation from Tsinghua University, Beijing China, a M.S. in Electrical Engineering from the University of Maine, a M.B.A. from San Diego State University and a Juris Doctor degree from the University of San Diego School of Law. He is a licensed member of California Bar.