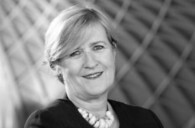 Lesley Batchelor OBE
Director General
Institute of Export and International Trade
Lesley Batchelor is a champion of UK exporters, with a powerful track record in enhancing the performance of hundreds of businesses.
Appointed director general of the Institute of Export & International Trade (IOE&IT), an education foundation providing qualifications and support for business for over 10 years. Active on the APPG Advisory Panel on Trade & Investment, the APP Manufacturing Group and provides evidence to the House of Lords Select Committee on Government support for SMEs. A director of International Business & Diplomatic Exchange and of the International Association of Trade Training Organisations Lesley is often a leading light in thought leadership issues connected with international trade.
After 15 years working with blue-chip giants including Fujitsu Europe, Canon, Ciba-Geigy and Coca-Cola, Lesley set up CMC Marketing in 1992 to develop inspirational overseas strategies and international training programmes for SMEs. In 2007 she joined the Institute of Export where she has forged influential partnerships with many national and international associations. In 2014 she was appointed CEO of Open to Export a digital platform for new and inexperienced exporters set up as a collaborative CIC with FSB, UKTI, HSBC & the IOE&IT which has now become an exciting addition to the IOE&IT portfolio of services.
Lesley is a graduate of the Institute of Export qualifications and the Chartered Institute of Marketing. She has invaluable expertise in intellectual property, global licensing and marketing. Awarded in the OBE in the 2014 Birthday Honours List and recently judged to be the CBI Real Business First Woman in Business Services for 2015.