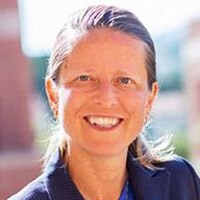 Kate Suominen
Founder & CEO
Nextrade Group
Dr. Kati Suominen is Founder and CEO of Nextrade Group and has ideated and led all Nextrade Group engagements. She ideates and develops actionable data, rigorous AI-driven analytics, and public-private partnerships to digitize and drive world trade and economic growth.
Suominen is a global thought leader in trade, development, and digitization. She has published over 100 articles and her 10th book, Revolutionizing World Trade: How Disruptive Technologies Open Opportunities for All, will be published by Stanford University Press in 2019.
She has ideated and built six global initiatives and PPPs involving over 30 leading technology, ecommerce, and logistics companies and numerous global agencies, such as eTrade for All now led by the UN and 40 agencies to drive ecommerce development, Digital Standards for Trade (DST) now championed by ADB and International Chamber of Commerce (ICC) to develop interoperability standards among digitizing trade intermediaries, and Alliance for eTrade Development with leading technology and logistics companies and USAID to accelerate digitization and trade across developing countries.
Suominen has spoken and keynoted at such venues as Davos, WTO, World Trade Symposium, Global Trade Review, ICC Banking Commission, IMF, and World Bank, and commented in such media as Wall Street Journal, Washington Post, Time, Politico, BBC, CSPAN, USA Today, and LA Times.
She has served as Adjunct Fellow at the Center for Strategic and International Studies (CSIS), where she founded the Digital Trade program working with such companies as eBay, Google and IBM, and as Adjunct Professor at the UCLA Anderson School, where she teaches international business economics and the economics of global digital disruption. She is Life Member of the Council on Foreign Relations.
She has served as Resident Fellow in the Global Economics program at the German Marshall Fund of the United States (2010-12), where she founded the GMF's G20 initiative, and as Trade Economist at the Inter-American Development Bank (2003-10), where she managed the Bank's global trade policy research and served as trade policy advisor to APEC Senior Officials. In 2017, she served as Senior Advisor to the G20-launched World SME Forum.
A trade economist, she received her PhD from University of California, San Diego, MBA from the Wharton School of Business, MA from Boston University,and BA from the University of Arkansas, Little Rock, where she played Division I tennis on a full scholarship.