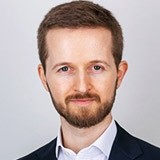 Henry Curr
Economics Editor
The Economist
As Economics editor, Henry Curr is The Economist's principal leader writer on economics and oversees economics coverage throughout the newspaper. He has written cover stories on fiscal and monetary policy, labour markets, trade, central banks, competition policy, the future of the business cycle, globalisation, taxation, trade, housing markets, inequality and "millennial socialism". His work has been cited by monetary policymakers in Europe and America, including his October 2019 special report on inflation, which ran as the cover story "The world economy's strange new rules".
Henry joined the newspaper in 2014 as Britain economics correspondent before moving to Washington, DC in 2015 to cover America. In 2018 at the age of 28 he became the youngest Economics editor in the history of The Economist. He regularly appears on television and radio and is an experienced speaker and panel moderator.
Before joining the newspaper Henry worked as a professional economist for a consulting firm. He has an M.Phil with Distinction in economics from Nuffield College, Oxford and a B.A in PPE from Magdalen College, Oxford. As an undergraduate at Oxford, he was the John Hicks Foundation prize winner.