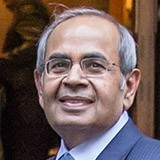 Gopichand P. Hinduja
Co-Chairman
Hinduja Group
Gopichand P. Hinduja, fondly known as 'GP' in business circles, graduated from Mumbai University, and at 19 he joined the family business. GP, along with his brother, transformed their family business from an Indo-Middle East trading Group into a multi-billion-dollar transnational conglomerate.
Today, GP continues to lead the Hinduja Group's global M&A activities. From the first acquisitions of Gulf Oil in 1984 and Ashok Leyland, the struggling Indian automotive manufacturer, in 1987, and more recent acquisitions of the UK's electric bus manufacturer, Optare and Houghton Inc. in USA, the global leader in metal working fluids, GP prefers to have a direct, hands-on approach towards any M&A opportunity the Group explores.
With vision and determination, the Hinduja Group has moved into India's power and renewable energy sectors, and infrastructure development. It is also making strides into cyber security, globally. Furthermore, under GP's able stewardship, the Group acquired Winston Churchill's Old War Office in London's Whitehall, a Grade II heritage building which is being carefully restored to make way for a luxury Raffles Hotel and apartments.
With the family and Group's extensive philanthropic work, GP is a trustee of the Hinduja Foundation, the PD Hinduja National Hospital, and the KPB Hinduja College of Commerce, and the Patron of a United Kingdom charity dedicated to mental health.