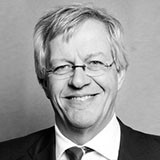 Gerard Hartsink
Chairman of the Industry Advisory Board of the Digital Trade Standards Initiative
ICC
Gerard Hartsink is the Chairman of the Industry Advisory Board of the Digital Trade Standards Initiative of the International Chamber of Commerce. The DSI program is focussed to support the 45 mio ICC corporate members with further digitalisation of their international business processes. The DSI Industry Advisory Board is composed of senior managers of companies involved in export and import transactions and industry organisations such as GS1, FIATA, BIMCO, DCSA, IPCSA, SWIFT, ICISA and GLEIF.
He was the chair of the ICC Working Group that delivered the ICC Identity Guide (for parties involved in the international supply chain) and is the Project leader of the ISO Technical Committee 307 Blockchain for the Technical Report 6039 "Identifiers of subjects and objects for the design of blockchain systems"
Mr Hartsink is active in organisations promoting e-commerce and e-government (member of the Forum Standaardisatie of the Dutch government).
He has a broad experience in the payments, securities, forex and identity industries. He served as the Chairman of the GLEIF, CLS Bank International, European Payments Council and of the RMG of ISO 20022 and as Board Member of SWIFT, LCH, Euroclear Netherlands and Euro Banking Association.
As former Senior Executive Vice President of ABN AMRO he has over thirty years experience in sales, product development, regulatory affaires, information managemtn and operations. He holds MA degress in political economy from the University of Amsterdam and in law from the Free University in Amsterdam.