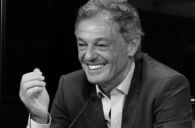 Francisco Cabrera
Minister of Production
Argentina
Francisco Cabrera is the Minister of Production of Argentina since 10 December 2015. Prior to his appointment as Minister of Production, he was Minister of Economic Development of the City of Buenos Aires and president of Fundación Pensar. He belongs to the argentine political party PRO (Republican Proposal), is engineer in electricity and electronics and holds a Master in Business Administration.
Under his leadership, the Ministry of Production aims to achieve the productive transformation of Argentina based on three pillars: the defense of competition with institutional quality, the promotion of international integration and the federalization of production. Its main objective is to create jobs and contribute to the long-term goal of Zero Poverty established by the National Government.
Prior to starting his career in public service, Minister Cabrera worked in the private sector. He worked at Hewlett-Packard and was then CEO of pension funds Maxima.
He developed most of his career in management in the Roberts Group, and then the HSBC Group where he was a board member of La Buenos Aires Seguros, of Docthos and directed the retail department of the bank.