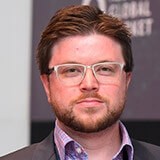 Edward Mendelson
Project Lead - Sustainable Supply Chains
Everledger
With over 10 years of experience in the retail, wholesale and manufacturing of jewellery and gemstones, Edward Mendelson has a strong background in ethical gemstone and precious metal supply chains, sustainability and impact measurement.
His focus at Everledger is the implementation of coloured gemstone and precious metal traceability and sustainability initiatives. He also leads Everledger's collaboration with global NGOs, to explore how emerging technologies can create a better future for all those that are challenged by poverty and marginalisation, by facilitating risk management, impact measurement, inclusion and compliance.
His work is helping enable more connected, sustainable and transparent supply chains, so companies can stay ahead of the evolving compliance landscape - while bringing prosperity to the heart of communities, expose exploitation and contribute towards a more sustainable planet.
One area Everledger is exploring is tracking the lifetime journey of an asset to help tell the stories of the communities behind its sourcing and processing. The aim is to shine a light on these stories to increase and protect the value of the end-product to deliver higher margins that can be reinvested into local social and environmental projects.
Mr Mendelson holds an MBA from the University of Western Australia and Project Management qualifications from the Australian Institute of Management, and is a Fellow of the Gemmological Association of Australia (FGAA).