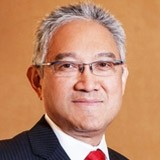 Dr. William FUNG Kwok Lun
Li & Fung Limited
Group Chairman since May 2012 and became Group Non-executive Chairman in June 2020. Executive Deputy Chairman from 2011 to May 2012 and before that, Group Managing Director from 1986 to 2011. Joined the Group in 1972 and became a Director of the Group's export trading business in 1976.
Graduated from Princeton University with a Bachelor of Science degree in Engineering. Holds an MBA degree from the Harvard Graduate School of Business. Degrees of Doctor of Business Administration, honoris causa, were conferred by The Hong Kong University of Science & Technology, by The Hong Kong Polytechnic University, by Hong Kong Baptist University and the Wawasan Open University of Malaysia.
He previously held key positions in major trade and business associations, past Chairman of the Hong Kong General Chamber of Commerce, the Hong Kong Exporters' Association and the Hong Kong Committee for Pacific Economic Cooperation Council.