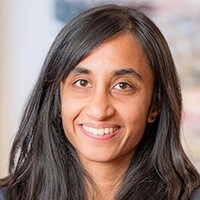 Dr. Mekala Krishnan
Senior fellow
McKinsey Global Institute (MGI)
Her research focuses on various topics related to inclusive growth and economic development, including globalization, productivity growth in advanced economies, climate risk, and women's role in labor markets. Her most recent research has focused on the future of globalization including the evolution of global value chains, prospects for emerging markets, and the impact of services trade, intangible assets, and digital globalization on value chains. She is also leading research on climate change, including its impact on global supply chains. Mekala is a frequent speaker on these topics at global conferences as well as with executives at Fortune 500 companies. She has authored numerous articles and her work has been cited in leading business publications, including The Financial Times, The Wall Street Journal, The Economist, and Harvard Business Review.
Mekala is a member of a task force at the Hutchins Center on Fiscal and Monetary Policy at Brookings focused on improving productivity measurement, on a taskforce supporting Queen Maxima of the Netherlands in her capacity as the UN Secretary General's Special Advocate for Inclusive Finance for Development, serves on an advisory board for the Sibley School of Mechanical Engineering at Cornell University, and serves on the board of the Global Fund for Women, a leading public foundation dedicated to improving global gender equality.
Mekala received her Ph.D. and M.S. degrees in Mechanical Engineering from Cornell University in 2011. Prior to Cornell, she received a Bachelor of Technology degree in Mechanical Engineering in 2006 from the Indian Institute of Technology Delhi.