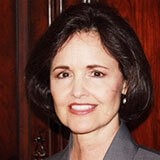 Dr. Judy Shelton
U.S. Executive Director
European Bank for Reconstruction and Development
Judy Shelton serves as United States Director of the European Bank for Reconstruction and Development. Specializing in global finance and monetary issues, Dr. Shelton has testified as an expert witness at congressional hearings conducted by Senate Banking, Senate Foreign Relations, House Banking, House Foreign Affairs, and the Joint Economic Committee.
Dr. Shelton is author of The Coming Soviet Crash (1989) and Money Meltdown: Restoring Order to the Global Currency System (1994). She regularly provides commentary for CNBC business news and her opinion pieces have appeared in the Wall Street Journal, The Hill, Cato Journal and the Financial Times. She received a postdoctoral fellowship from the Hoover Institution at Stanford University as a National Fellow and was subsequently appointed Senior Research Fellow. She served as Chairman of the National Endowment for Democracy.
Judy Shelton holds a Ph.D. in Business Administration, emphasizing finance and international economics, from the University of Utah.