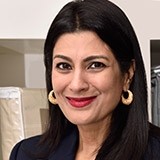 Dipali Goenka
CEO
Welspun Group
Dipali Goenka is an accomplished global business leader known for her dynamism, entrepreneurial spirit and passion for people & environment. Dipali has been instrumental in driving the growth of Welspun's home textile business to $1 billion global leadership with focus on Innovation, Brands & Sustainability.
Welspun is a strategic partner to top global retailers with a distribution network spanning over 50 countries. Keeping consumer wellbeing at the core, Welspun provides smart comprehensive solutions supported by its farm to shelf capabilities and integrated manufacturing facilities.
By developing internationally recognized brands like Christy and Hygrocotton and leading domestic brands Spaces & Welspun, Dipali has been seminal in her forward looking customer centric approach. She has a strong focus on women empowerment and has undertaken significant initiatives to promote inclusive growth. She is a firm believer that business can be an agent of change.
Dipali has been recognized as one of most powerful woman in Asia and India by Forbes. She was co-chair at India Economic Summit 2017 organized by World Economic Forum. She has been an Inspire series speaker at Harvard India conference. She was also recognised by Businessworld and HTT, US as one of the most influential woman business leader. Dipali joined other world leaders at the recent historic 1st United Nations Biodiversity summit for urgent action on Sustainable development. She was the chairperson of ASSOCHAM Women's council and is currently on board of Consumption platform at World economic forum.
Dipali is a graduate in Psychology and a Harvard alumnus.