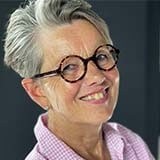 Diane Gilpin
Chief executive and founder
Smart Green Shipping
Diane Gilpin leads Smart Green Shipping (SGS), a purpose-driven, for-profit systems design house working to drive immediate, scalable and positive change in the global shipping fleet.
SGS works collaboratively across the shipping ecosystem and brings in adjacent technologies and industries. In 2018 and 2019, SGS led an InnovateUK-supported collaborative feasibility analysis quantifying the benefits of retrofitting its FastRig wingsails onto a ship importing biomass into Britain for Drax Power. In this analysis, fuel and greenhouse-gas emissions savings of at least 20% per year were verified in virtual-world computational fluid dynamic modelling at the University of Southampton. With the support of the European Space Agency, SGS has developed an app called TradeWind to quantify the value of the wind on any ship on any route. This tool is a key enabler of rapid market adoption of wind-assist technology.
Ms Gilpin sits on the Clean Maritime Council of the British department for transport and is a European green shipping expert for the EU Waterborne technology platform. She was included in the BBC Woman's Hour Power List [BH2] for 2020, has received a Women in Innovation award from InnovateUK, and won the award for outstanding contribution to the wind propulsion sector from the International Windship Association in 2021.