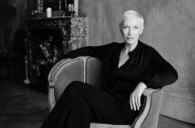 Annie Lennox
Singer, songwriter, activist and philanthropist
As one of the finest and most outstanding musical voices of our time – Scottish singer songwriter, campaigner and activist Annie Lennox is celebrated as an innovator, an icon, and a symbol of enduring excellence. Annie's musical career is peerless, with over 80 million record sales to date. She has received countless awards, including 8 Brit Awards (and a Lifetime Achievement Award ) 4 Grammy Awards with 10 nominations, 26 ASCAP Awards, the American Music Award of Special Merit, a Golden Globe and an Academy Award.
She is the first woman to have received a BASCA Fellowship at the Ivor Novello Awards.
Her tireless humanitarian work is widely praised and has been recognised by numerous honours, including the prestigious Livingstone Award by the Royal Scottish Geographical Society, the Nobel Peace Laureates award for services to humanity and OBE awarded by Queen Elizabeth.