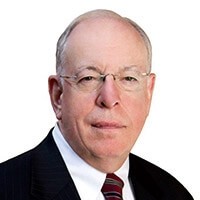 Ambassador Alan Wm. Wolff
WTO Deputy Director-General
Alan Wolff became WTO Deputy Director General on October 1, 2017. He oversees the work of the WTO Divisions responsible for trade and the environment, agriculture, accessions information technology support, and translation, interpretation and publications. A substantial part of his responsibilities is public outreach, with speeches and other writings available at https://www.wto.org/english/news_e/archive_e/ddgra_arc_e.htm.
He was formerly in private law practice dealing extensively with international trade matters. For the last six years prior to joining the WTO he also served as the Chairman of the National Foreign Trade Council (NFTC).
Wolff served as United States Deputy Special Representative for Trade Negotiations in the Carter Administration, Acting U.S. Trade Representative during the beginning of the Carter Administration and was General Counsel of the Office in the Ford Administration. He was Acting Head of the U.S. Delegation for a period during the Tokyo Round and was a principal draftsman of the basic U.S. law creating a mandate for trade negotiations. He has served as a senior trade negotiator in, and advisor to, both Republican and Democratic administrations.
Prior to his service at USTR, he served in the U.S. Treasury as staff attorney for the National Advisory Committee on International Monetary and Financial Policy. He has lectured and written extensively on trade topics including the need for a strong, open rules-based multilateral trading system. He holds a JD degree from Columbia University and an AB degree from Harvard College.