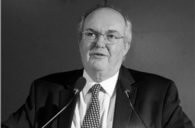 Adrian Harris
Director General
ORGALIME
Orgalime, the European Engineering Industries Association, speaks for 40 trade federations representing the mechanical, electrical, electronic, metalworking & metal articles industries of 23 European countries. The industry employs some 10.9 million people in the EU and in 2015 accounted for more than €1,900 billion of annual output. The industry accounts for over a quarter of manufacturing output and a third of the manufactured exports of the European Union.
Before joining Orgalime in 1996, Adrian Harris worked for 20 years for a number of general contractors for the construction of complete plants, essentially in the agro-industrial and beverage area.
Adrian Harris was born in 1952 and graduated with an M.A. in languages from Jesus College, Oxford University and an MBA (finance) from the University of Leuven.
Orgalime is a member of the Alliance for a Competitive European Industry (ACEI), of which Adrian Harris was Chairman (2012-2013) and at present he is a Board member of the Federation of European and International Associations established in Belgium (FAIB).